La "Madonna chinoise".

Brit Asian babe Ayi Jihu is Top of the Pots in China
10th September 2010
By Daily Star reporter
A SINGING sensation who washed dishes in her parents' UK restaurant has been dubbed the "Chinese Madonna" after 100million download sales.
Ayi Jihu, 25, gave up her £4-an-hour job at the Ugly Duckling in Cambridge to become a chart-topper.
Now the millionaire babe intends to wow British fans, too.
Posing at the sink on a return to the UK, she said: "Not a lot of Chinese performers are like me. I'm sexy and provocative."
Source: Daily Star.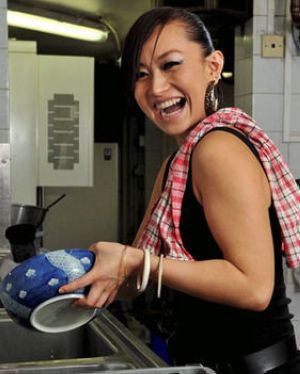 Ayi Jihu gave up washing pots at her parents' restaurant to be a pop star in China.