The End of an Era: Madonna and Gwyneth Are No Longer Friends
La fin d'une époque: Madonna et Gwyneth ne sont plus amies.

Now that Madonna's a swinging single cougar, Gwyn refuses to study Kabbalah with her.
Famed best friends and Madonna and Gwyneth Paltrow have broken up after years of studying Kabbalah, eating macrobiotically, and practicing their fake British accens on each other: "They don't speak. I can't tell you exactly why they had the falling out, but Gwyneth can be jealous and competitive." Apparently things started going downhill after Madonna's split from Guy Ritchie, leaving Madge and Gwynnie "with less in common" now that Madonna is a swinging single cougar. Gwyneth told British Vogue, "I'm having a situation right now with a friend where I'm feeling pretty angry." They'll always have Visyasa yoga to sublimate their rage. Let us mourn this solemn occasion with a photo of the duo going to the gym. [Us, images via Splash]
Source: Gawker.

People: Guy splits Madonna, Gwyneth?
by Suzanne Condie Lambert, Republic columnist - Jun. 10, 2010 09:08 AM
The Arizona Republic
Fake Britishness was the only thing holding Madonna and Gwyneth Paltrow together:
The women, besties since 1999 who bonded over their marriages to Englishmen and London lifestyles, have fallen out, an insider tells Usmagazine.com. The anonymous spy declines to be specific but accuses Paltrow of being jealous and competitive. And then the spy probably slipped out for a bottle of Kabbalah water before picking up Jesus Luz from the sitter's.
A Madonna rep denies the split, but the insider says the relationship faltered after Madonna broke up with Guy Ritchie in 2008.
Source: Azcentral.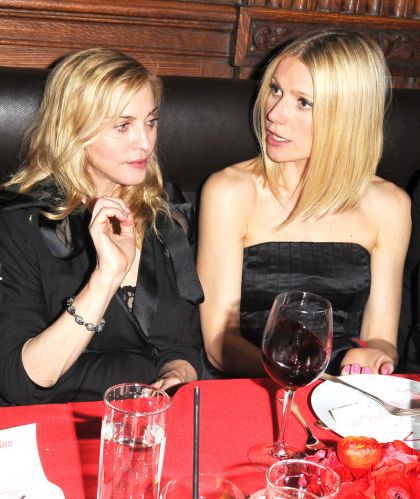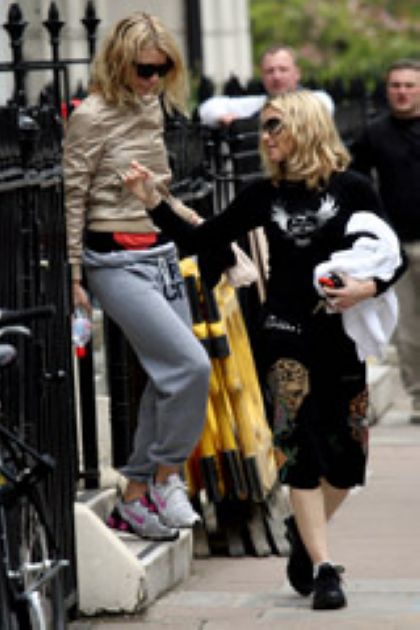 Madonna and Gwyneth Paltrow