The press on Jane Lynch doing Madonna's ''Vogue'' video in ''Glee''
La presse sur Jane Lynch faisant la vidéo de "Vogue" de Madonna dans "Glee".

Video: Glee's Sue Sylvester Takes On Madonna's "Vogue"
April 13, 2010 by TJ
Filed under TV/Radio Goodness
Nothing will get you more pumped up for next week's "Power of Madonna" episode of Glee better than seeing McKinley High School's acid-tongued Cheerios coach Sue Sylvester unleash her inner sexy beast in a remake of the Material Girl's iconic "Vogue."
Backed by the dynamic duo of the New Directions, Kurt and Mercedes (Chris Colfer and Amber Riley), Sylvester (played by Jane Lynch) covers her signature short hair-do and dons a Madonna-esque wig to look her best as she shakes, shimmies, strikes poses, and gives majorly good face. Not one to stay soft and sensual for long, Sue sneaks in some darts for her rival: "Will Schuester, I hate you!"
See the hilariousness below and tune in to FOX on April 20 to see the full "Power of Madonna" episode.
Source: Neon Limelight.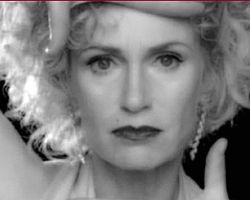 Jane Lynch moves to the music in remake of Madonna's "Vogue"
Submitted by Gary Mills on April 13, 2010 - 11:20pm
Gleetastic
Jane Lynch may just be my favorite TV actress — in a comedy, anyway. (Kyra Sedgwick as Brenda Leigh Johnson in TNT's "The Closer" reigns as favorite dramatic actress.)
At the conclusion of Tuesday's return of "Glee," Lynch's Sue Sylvester appeared in a music video remake of Madonna's "Vogue," which just celebrated its 20th anniversary in March.
Lynch, who turns 50 this year, holds her own compared to a 32-year-old Madonna in 1990. Lynch manages to pull off some of Madge's dance moves with relative ease, probably thanks to several takes and a skilled editor. (Kate Gosselin, no doubt, wishes she were half the dancer in her run on this season's "Dancing with the Stars.")
On whole, the video respects the original — dancing, costumes, cinematography and all. A couple of reworked lyrics, however, are a welcome exception.
The gimmick was used to promote next week's episode, "The Power of Madonna," when New Directions' members will sing a number of Madonna's classics, enough to warrant the release a special CD on Tuesday, the same day the episode airs.
Source: Jacksonville.

'Glee' 1.15 Preview: The Power of Madonna
April 14, 2010 04:44:05 GMT
In a bid to boost up the girls' confidence over the guys, Will encouraged the club to do their own versions of Madonna's popular hits such as 'Like a Virgin'.
"Glee" is officially dancing again on FOX and next week is the highly-anticipated Madonna-centric episode. Mr. Schuester is concerned that the girls in the glee club are being disrespected and bullied by the guys. Looking to Madonna and her musical message of equality as inspiration, he challenges the entire team to choose Madonna songs as their next assignment.
He hopes that the girls embrace her strength, independence and confidence and that the guys will see the error of their misogynistic ways. The glee club takes the assignment to heart as they perform some of Madonna's greatest hits, including "Express Yourself" and "Like a Prayer." Meanwhile, Kurt and Mercedes give Sue a vote of confidence with a makeover that is definitely in "Vogue."
So loud is the buzz surrounding this April 20 episode that FOX decided to release a compilation of all the Madonna's song mash-ups. The album, titled "Glee:The Music, The Power of Madonna", is set for April 20 release in the U.S. but it's already on pre-sale on Amazon. Beside the mentioned songs above, there will be "Borderline", "Open Your Heart", "Like a Virgin", "4 Minutes", and "What It Feels Like for a Girl".
•Preview
Source: Ace Showbiz.

Catch A Sneak Peek Of Next Week's 'Glee': Madonna Episode
'Glee' Returns! Catch A Sneak Peek Of Madonna Episode
Web Reporter
7:51 PM PDT, April 13, 2010
It's one of the hottest shows on TV. FOX's hit musical series Glee is back! Click on the link for a sneak preview of next week's entire episode dedicated to the music of Madonna.
Be the first to know. Sign up for Q13 FOX Mobile and E-mail Alerts.
Source: Q13 FOX, KCPQ.

Today's News: Our Take
Glee's Jane Lynch Suits Up for Madonna's "Vogue"
Apr 13, 2010 10:21 PM ET by Natalie Abrams
Next week's Madonna-centric episode of Glee brings out a different side of Sue Sylvester (Jane Lynch) as we learn she's a huge fan of the pop diva.
"We find out her parents were famous Nazi hunters and she's very insecure about her hair," Lynch tells TVGuide.com. "She actually emulated Madonna so much as a kid that she bleached her hair platinum blond and it all fell out. She's been forced to wear short hair ever since, so she's actually pretty jealous of Will Schuester's illustrious locks."
After Will makes a comment about Sue's short hair, Mercedes (Amber Riley) and Kurt (Chris Colfer) ease her pain by giving her a makeover, which leads to a re-enactment of the "Vogue" video. Get a sneak peek at the video below:
Glee airs Tuesdays at 9/8c on Fox.
Source: TVGuide.

Strike a Pose: 'Glee' Does Madonna's 'Vogue'
6:49 AM EDT, April 14, 2010
Fox's hit musical series "Glee" is back, and next week, the entire episode is devoted to the music of Madonna.
Play the video clip below to watch a sneak preview!
Source: FOX 8 Cleveland, WJW.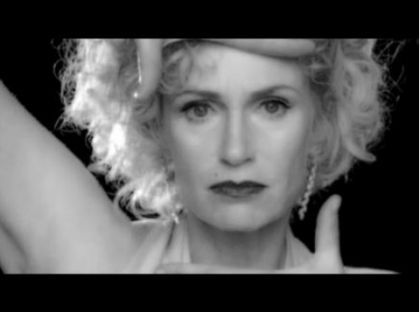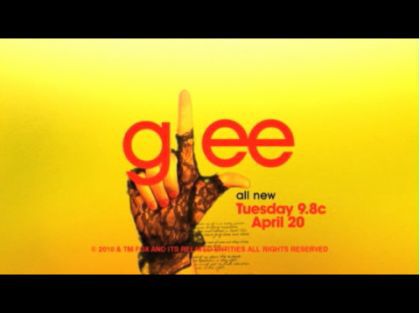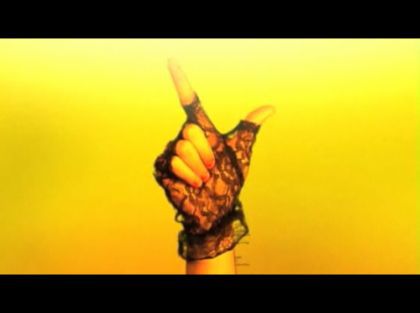 'Glee's' Sue Sylvester (Jane Lynch) strikes a pose for Madonna's 'Vogue' in first solo song
By Soraya Roberts
DAILY NEWS STAFF WRITER
Wednesday, April 14th 2010, 9:14 AM
Who knew that Sue Sylvester could do anything with her pipes besides berate her cheerios?
Following "Glee's" second season premiere Tuesday night, Fox aired the vitriolic coach's version of Madonna's "Vogue" music video to usher in next week's all-Madge episode.
Though she is not a professional singer like Broadway stars Lea Michele and Matthew Morrison, actress Jane Lynch sang an uncanny rendition of the Queen of Pop's 1990 hit.
In the video, Sue sports Madonna's bleached blonde curls and handfuls of diamonds. The black and white homage to Madonna's riff on 1930s Hollywood was complete with back-up dancers and singers, including Kurt and Mercedes.
And what would a Sue parody be without a jab at her no. 1 rival, Will Schuester?
"Gene Kelly, Fred Astaire. Sue Sylvester, dance on air ... Lauren, Katherine, Lana too. Will Schuester, I hate you," she sings with venom.
This is Lynch's first foray into her own "Glee" tune, but it's not the first time she has lent vocals to one of her roles. In Christopher Guest's mockumentary "A Mighty Wind," she sang as part of the folk band The New Main Street Singers.
In more personal news, Lynch confirmed this week that she is set to wed partner Lara Embry.
Source: NY Daily News.

Glee's Sue Sylvester Does Madonna's 'Vogue'
April 14, 2010
In a special teaser that aired during Glee's spring premiere, Gleeks got their first look at next week's highly-anticipated "The Power of Madonna" episode — featuring cheerleading coach Sue Sylvester (Jane Lynch)!
Sporting the Madge's platinum curls and infamous cone bra, the queen of mean went glam to recreate the iconic "Vogue" music video, with a little help from glee club members Kurt (Chris Colfer) and Mercedes (Amber Riley).
"Oh, yeah, the cone bra, the Gaultier bra, I wear that in one scene," Lynch told MTV of the April 20 episode. "And it's the most powerful I've ever felt in my life … I wore the cone bra with the track suit, so it worked."
Tell us: Who does a better "vogue," Madonna or Sue Sylvester? Are you excited to see Glee take on Madonna?
Source: PEOPLE TV Watch.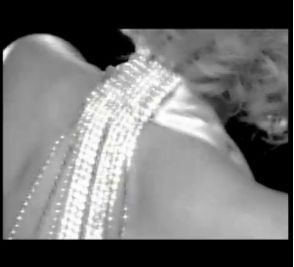 See Glee's Sue Sylvester Perform Madonna's 'Vogue'
4/14/10 at 11:04 AM
By: Edith Zimmerman
Looking good, Sue! (And, in case you missed it, the rest of last night's recap is here, and Glee's Madonna-themed episode airs next Tuesday, April 20.)
Source: NY mag.