The press on the first sketches from the 'Material Girl' Collection
La presse sur les premiers croquis de la Collection 'Material Girl'.

Madonna, daughter Lourdes partner on junior fashion line
Material Girl will be sold at Macy's for back-to-school season. Sketches were released Tuesday.
By Booth Moore, Los Angeles Times Fashion Critic
June 23, 2010
Madonna is hoping to go from fashion icon to fashion mogul with her latest endeavor. The pop star and her 13-year-old daughter, Lourdes Maria Ciccone Leon, are partnering on a junior fashion line called Material Girl, which will be sold exclusively at Macy's for back-to-school season, and although the clothes won't land in stores until Aug. 3, sketches were released Tuesday.
The line is named after Madonna's 1984 hit song, and there are some similarities to the pop star's 1980s iteration — the (very) short skirt, the corset top, the layered jewelry. But the muse is Lourdes, or Lola as she is known, Madonna's daughter with trainer Carlos Leon.
Material Girl will include apparel, footwear, jewelry and handbags, and items will range from $12 to $40.
The first collection mixes hard and soft elements, "like a tutu dress and studded-combat boots, or an oversized boyfriend sweatshirt with a floral print mini skirt," according to a news release.
From the sketches, the collection doesn't look to be anything wildly new. There's a little Betsey Johnson in the floral dress, a little Versace in the star print, and a little Madonna in the skinny jeans and bustier combo. If anything, the clothes appear overly sophisticated for the demographic.
Of course, if you're Madonna or anything like her, it may be almost impossible to lecture your teenage daughter about age-appropriateness. "I think this line is absolutely an extension of her taste," Madonna said in a statement about her daughter's involvement. "We like to combine … a plaid or a flannel with a lace, or leather with lace or rhinestones. So we mix and match textures and fabrics and elements that are both masculine and feminine."
Material Girl is being designed in collaboration with the in-house design team at Iconix Brand Group. The New York-based firm owns several other lines aimed at the gum-smacking set, including Bongo, Rampage and Candie's, and has stakes in Ed Hardy and Danskin. Madonna and her manager, Guy Oseary, formed a new company, MG Icon, to focus on future fashion projects, including eyewear. MG (Madonna and Guy) owns 50% of Material Girl, and Iconix owns the other 50%.
This is not Madonna's first go at fashion. In 2007, she teamed up with H&M for the M by Madonna line, with styles deemed too staid by some critics (a white trench coat and white sequined minidress were top sellers, but there wasn't a cone bra in sight). And she has also had a long friendship with Italian designers Domenico Dolce and Stefano Gabbana, who cast her as a Sicilian housewife for their spring 2010 advertising campaign, doing dishes and eating spaghetti with her hands.
Source: The Los Angeles Times.

Macy's to carry fashion line from Madonna and her 13-year-old daughter, Lourdes
BY ANGELA LOPEZ
FREE PRESS STAFF WRITER
Posted: June 23, 2010
Madonna has worn many hats -- literally and figuratively -- during her 25-plus years in the spotlight. But with her mom and fashionista hats firmly in place, the 51-year-old pop star is about to launch a junior fashion line with 13-year-old daughter Lourdes (Lola) Leon.
Madonna, who grew up in Rochester Hills, has expressed more than once her desire to distance herself from the moniker Material Girl, which she was given in 1985 when her song of that name was released. She once told MTV News: "If I had known ...that for the rest of my life I was going to be referred to as the Material Girl, I probably wouldn't have done it."
Ironically that Material Girl vibe, that mix of rebel leather and girlie lace, has outlived most of Madonna's fashion phases. Throw in some input from Lourdes, and the vintage look gets a modern twist -- think tutus paired with combat boots, skinny jeans layered under a blazer, a mixture of hard edges and soft details.
"I really like the way Lola dresses, and I think this line is absolutely an extension of her taste," the proud mom said of the collection in a statement. "We mix and match textures and fabrics and elements that are both masculine and feminine."
Exclusively for Macy's and with the cooperation of Iconix Brand Group, the Material Girl collection of clothing, footwear, handbags and jewelry will hit stores on Aug. 3. And with prices ranging from $12-$40, you don't need to have a superstar mom to afford it.
More details are slowly trickling out, and the sketches offer on this page offer Free Press readers the state's first glimpse of the collection.
According to Macy's, the target market for the Material Girl line is girls ages 13 to 24 who are "spontaneous and fearless, influenced by (their) eclectic taste in music, dance and Hollywood." It's all about "self-expression and playing with layering -- much like the image of Madonna during the '80s," the retailer says.
Material Girl will be available in metro Detroit at Macy's stores at Twelve Oaks, Southland, Lakeside, Oakland, Fairlane and Eastland malls, and Woodland Mall in Grand Rapids. The line will also be available at Macy's online.
RELATED INFORMATION
Who's that girl?
Who is the celebrity that will be the face of Madonna's new fashion line? The label has only released this tease of an ad, so your guess is really as good as ours.
But there are a few things that we know for sure: The Material Muse has gotta be hot, talented and unforgettable. Here's who we think it might be:
• Ke$ha
• Orianthi
• Sienna Miller
• Avril Lavigne
• Taylor Swift
• Blake Lively
Source: Detroit Free Press.

First Look: Madonna's New "Material Girl" Clothing Line
Adryanna on 06.23.10 at 10:05 AM
More than two decades after she released the single "Material Girl", Madonna will reinvent her song title as the name of her new fashion collection set to launch at Macy's this August.
Madge and her 13-year-old daughter Lourdes (nicknamed Lola) codesigned the "Material Girl" line, so don't expect racy cone-shaped bras to invade Macy's racks. The line will debut with a range of clothes, jewelry, purses and shoes with plans to foray into beauty next year. It aims to capture the latest trends at an affordable price ($12 to $40) and to incorporate Lola's fashion taste.
"I really like the way Lola dresses, and I think this line is absolutely an extension of her taste," said Madonna in a press statement.
Today, Macy's released the first three sketches from the "Material Girl" collection. Wanna see?!
Lola might hardly be a teenager but she's displayed a penchant for fashion and counts fashion designer Stella McCartney as a mentor. Alongside her mother at the Nine premiere, Lola appeared on the red carpet in fishnets, a lace tutu miniskirt, a leather jacket, black Doc Martens, layered necklaces, black fingerless gloves, and jade green nail polish.
In an interview with Entertainment Tonight last March, Madonna said, "We [Lourdes and I] rarely disagree when it comes to clothes, I have to say. That's why most of my closet is being raided on a regular basis."
Based on the "Material Girl" sketches, the line looks to bring together Madonna's signature styles (think hair bows, lace and studs) with Lourdes' contrasting layered look, similar to the lace tutu and combat boots that she wore to the Nine premiere.
The celebrity muse for the collection has yet to be revealed, but from the ad below, looks very Taylor Momsen to me. What do you think? To further speculate, the choice of Momsen seems like an especially wise marketing decision if she'll be wearing clothes from the collection on the next season of Gossip Girl.
An additional hint on the celebrity muse's identity? This Madonna quote about the roots of the song "Material Girl" from her Entertainment Tonight:
"The thing about 'Material Girl' is that it's not meant to be taken literally. If you're a material girl, you're a girl with a sense of humour because it was always meant in an ironic way. A material girl cares about how she looks but it doesn't run her life."
Look for the "Material Girl" collection in Macy's stores and online at Macys.com this August. And coming soon, check out macys.com/materialgirl for Lola's fashion blog.
Source: Chicago Now/Fashion Statement.


Material Girl Sketches
A MIX: The line includes some similarities to Madonna's 1980s style. (Macy's)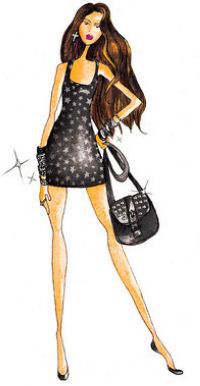 The statement bracelet and mixed embellishment trends remain for Fall. Madonna's unsurprising take? Stars, studs and crosses.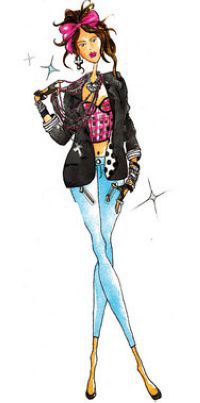 Love the polka dot lining on the blazer and the very Madonna (and most recently Marc Jacobs) oversized hair bow.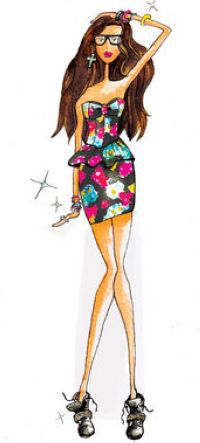 Madonna and Lola make geek chic fierce. Sign me up for the one earring, faux glasses, floral mini and moto boots ensemble.