These Boots are made for Talking
Ces bottes sont faites pour Parler.

Let's Discuss: Madonna's Signed Chanel Boots On Auction For Lourdes' High School Fundraiser
Posted 09/05/2011 by Mary H.K. Choi in Accessories
In most high schools, fundraisers mean a bake sale, or a rummage sale or some sort of well-meaning function that involves a spaghetti dinner in chafing dishes with wee little burners or a car wash that in actuality only seems to happen in movies when you need a plot device where young, nubile girls get sodden in some weirdly inappropriate way and bad stuff happens. At New York's LaGuardia high school, a super-artsy, mega-hard-to-get-into institution (a.k.a. The "Fame" School), where none other than Lourdes Leon matriculates, you get stuff like this.
Look, don't get it twisted. There is no way EVER that I would besmirch my own mother this close to mother's day by comparing her to Madonna because, hi, apples and oranges (to where my mother is the apple [OF MY EYE] and a marvelous Fuji one at that [go Asia!]), but the fact that Lourdes not only has a clothing line of her very own called, Material Girl, with a beautiful model in Kelly Osbourne and a campaign shot by the unparalleled photographer, Brooke Nipar, but gets to have her mom donate VINTAGE CHANEL OVER-THE-KNEE BLACK AND WHITE SPAT BOOTS THAT ARE SIGNED BY MADONNA BECAUSE YOUR FRIGGIN' MOTHER IS MADONNA, is a little intense.
The auction will continue for the next two days, bids are presently at $2860.00, and the proceeds will benefit after-school programs, individual student grants and supplies. Man, if I were appointed as the lady in charge of the money, those supplies would be MOAR SHOES and them ends would not proceed anywhere. AMIRITE??!!! I don't know. I just made myself sort of sad with the help of the Internet. I really could teach a class on the subject.
Source: MTV Style.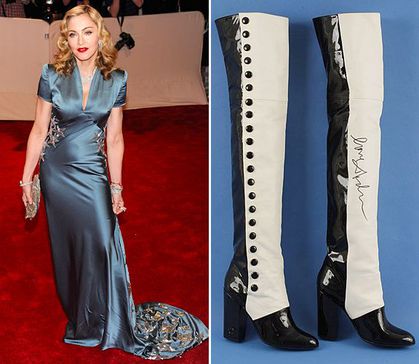 Madonna at the Costume Institute Gala at The Metropolitan Museum of Art in New York on May 2.