Tom Cruise And Madonna Were First Choices For ''Goodfellas''
Tom Cruise et Madonna étaient les premiers choix pour "Goodfellas".


19 September 2010 14:12
Superstars Tom Cruise and Madonna were movie bosses' first choices for the lead roles in iconic 1990 mafia movie Goodfellas.
Studio chiefs were desperate to cast Cruise in the role of mobster Henry Hill and Madonna was wanted to play his wife - until Ray Liotta and Lorraine Bracco won over Scorsese and the movie's producers.
Speaking to GQ magazine on Goodfellas' 20th anniversary, producer Irwin Winkler admits, "Tom Cruise was discussed. Marty wanted Ray... Frankly I thought we could do a lot better and then me and my wife were having dinner one night in a restaurant and lo and behold, Ray Liotta came over to me. He said, 'Look, I know you don't really want me for it, but...' And he sold me on the role right that evening. I called Marty the next morning."
Bracco beat out Madonna for the role of Karen Hill, despite Scorsese initially favouring the Material Girl.
Fellow producer Barbara De Fina says, "Madonna seemed to be in the mix. I remember that we went to see her in the play Speed-the-Plow. Marty said hello to her afterwards. Can you imagine? Tom Cruise and Madonna? But Marty can get a performance out of almost anyone."
Source: Contactmusic News.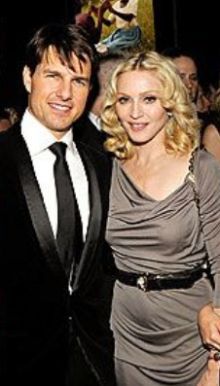 Tom Cruise and Madonna at "A Night to Benefit Raising Malawi and Unicef" at the United Nations headquarters in New York on February 6, 2008.
Tom Cruise et Madonna à "Une Nuit au Bénéfice de Raising Malawi et UNICEF" au siège social des Nations Unies à New York le 6 février 2008.