Trailer for ''Almost Human : Madonna on Film'' festival, Dec. 7-Jan. 4
Bande-annonce pour le festival "Almost Human : Madonna on Film" du 7 déc. 2009 au 4 janvier 2010.

'Almost Human: Madonna on Film' festival celebrates bad acting
Originally published Sunday, December 6, 2009 at 7:00 PM
The 'Almost Human: Madonna on Film' festival at Central Cinema Dec. 7-Jan. 4, presented by David Schmader with running commentary, is a celebration of bad acting.
By Laurie Dunlap
Seattle Times staff
She's made it big in music, but acting is not her strong point. After a promising start with "Desperately Seeking Susan," music diva Madonna's acting career took a nose dive. "Almost Human: Madonna on Film" is a comedic tribute to the five-time Golden Raspberry Award winner for worst actress.
The festival, tonight through Jan. 4, will highlight Madonna's atrocious acting each Monday at Central Cinema. Film introductions and a running commentary will be provided by host and local writer and performer David Schmader.
Films earning Madonna a Golden Raspberry Award that are featured in the festival are:
- "Shanghai Surprise," tonight. A romantic comedy and adventure set in 1930s China starring Madonna and Sean Penn.
- "Who's That Girl," Dec. 14. A slapstick comedy about a parolee who sets out to clear her name.
- "Body of Evidence." Dec. 21. An erotic thriller starring Madonna, Willem Dafoe, Anne Archer and Julianne Moore.
- "The Next Best Thing," Dec. 28. A gay-parenting drama turned courtroom thriller earned Madonna her fourth Golden Raspberry award for worst actress.
- "Swept Away," Jan. 4. A remake of an Italian art film about a well-to-do woman on a cruise ship who is marooned on an island with a crew member she had been feuding with.
Source: Seattle Times Newspaper.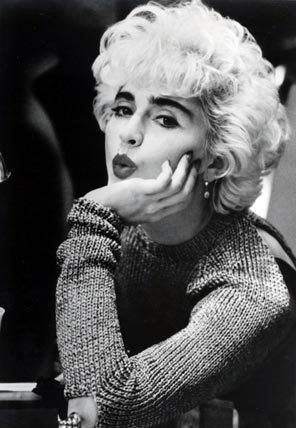 The Material Girl in 1987's "Who's That Girl."
Photo: ABC.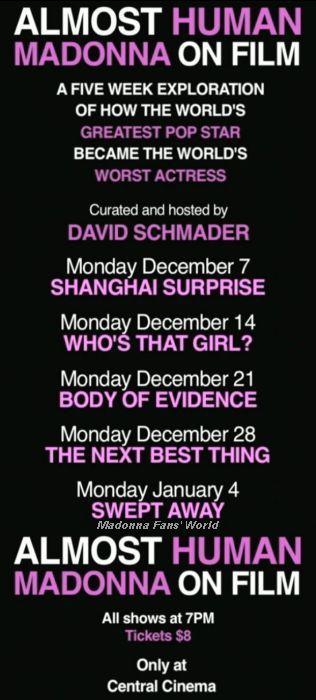 "ALMOST HUMAN" TRAILER
envoyé par davidschmader9331