Two sides of Madonna: Why is her work often dismissed?
Deux côtés de Madonna: Pourquoi son travail est-il souvent écarté?

Tracks of our years - Madonna
Gabriel Wilder
December 31, 2009 - 2:04PM
Madonna (1983) v Bedtime Stories (1994)
MADONNA has been famous as long as gen Y has been alive. She has spent more time at No. 1 on the ARIA singles chart than anyone else and yet her work is often dismissed.
It's easy to see why: her disastrous forays into acting, conversion to a mystical religion, delight in pushing people's buttons and predilection for toy boys (possibly those last two are one and the same) all detract from her music.
In 1983, when she released her self-titled debut, all that was in the future, yet there was a hint of what was to come. In Burning Up, an urgent, high-energy dance track, she sang: "I'm not the others, I'll do anything; I'm not the same, I have no shame." In the video, she writhed on the road, barefoot and pixie-esque, while an '80s pretty boy drove a convertible. In the song's final moments, Madonna was in the driver's seat.
The album was a slow burner — the first single, the simple dance tune Everybody, failed to ignite the charts. Burning Up was a hit only in Australia. But the third, Holiday, a sunny pop-dance track, brought her to the attention of the world. She hasn't been out of the limelight since.
The young wannabe pop star secured Reggie Lucas from '80s New York funk band Mtume as producer for her self-titled debut. He wrote two of its best tracks — Borderline, a melancholy pop-dance song, and Physical Attraction, a sinuous, slow jam. Although Madonna was unhappy with the final sound and had it remixed, Lucas's funk pedigree is all over this precocious debut.
Many of Madonna's subsequent albums are packed with hits but the tracklisting for her sixth, 1994's Bedtime Stories, reads like a best-of. As well as the eclectic chart-toppers Secret, Human Nature, Bedtime Story and Take a Bow (R&B, hip-hop, electronica and ballad respectively), it contains the gorgeous ode to her mother, Inside of Me; the infectious disco of Don't Stop; two lovely ballads, Forbidden Love and Love Tried to Welcome Me; and the hip-hop-pop hybrid Survival.
Working with R&B producers Dallas Austin, Babyface and Britain's Nellee Hooper (Massive Attack), she shows a becoming vulnerability on these sorrowful and beautifully crafted songs. The album gave her one of her biggest hits (Take a Bow was the highest-selling single in the US for 1995) and marked a turning point: four years later she collaborated with electronica exponent William Orbit to create Ray of Light, laying the template for her subsequent albums.
Twenty-six years on, her self-titled debut sounds as fresh and exuberant as it did when the brash young blonde burst on to the pop scene. A party isn't a party without everyone singing "celebray-ete" at 2am and Borderline and Physical Attraction hint at a talent for combining beats with melancholy melodies — a winning combination.
Yet in spite of her dance credentials, it's ballads that Madonna excels at — and Bedtime Stories is full of them, each one heartfelt.
Source: Sydney Morning Herald.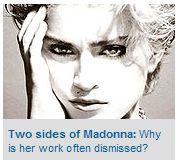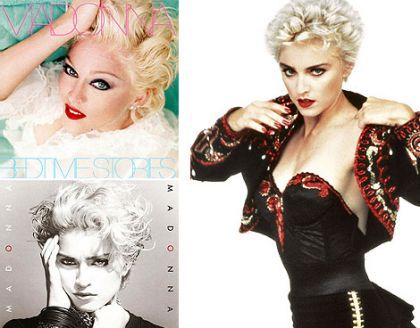 Madonna and those two album covers.