UN commissioner: Gay conviction in Malawi is alarming precedent
Commissaire de L'ONU: La conviction homosexuelle au Malawi est un alarmant précédent.

Gay conviction in Malawi is alarming precedent - UN commissioner
Monday, 24th May 2010
Human Rights
AFP
The UN human rights chief has slammed the "blatantly discriminatory" jailing of a gay couple in Malawi, saying that it sets an alarming precedent for the treatment of homosexuals in the region.
"I am shocked and dismayed by the sentence and reports of the treatment of Steven Monjeza and Tiwonge Chimbalanga while in detention," said Navi Pillay, UN High Commissioner for Human Rights.
"The law which enabled the conviction dates back to the colonial era and has lain dormant for a number of years - rightly so, because it is discriminatory and has the effect of criminalising and stigmatising people based on perceptions of their identity," she added.
Ms Pillay said the conviction should be repealed and penal codes that criminalise homosexuality reformed.
"Laws that criminalise people on the basis of their sexual orientation are by their nature discriminatory, and as such are in apparent violation of a number of key international treaties and instruments," said Ms Pillay.
She also warned that the move would drive homosexuals underground, and potentially have a "disastrous effect" on the fight against AIDS.
"It is a question of fundamental rights, not one of geography, history or disparate cultures," Ms Pillay added.
"The protection of individuals against discrimination is pervasive in international human rights law. Why should it be suspended for this one group of human beings?"
Tiwonge Chimbalanga and Steven Monjeza were arrested on December 28 after holding an illegal same-sex wedding, accused of violating "the order of nature".
US singer Madonna also condemned their sentence.
Source: Times of Malta.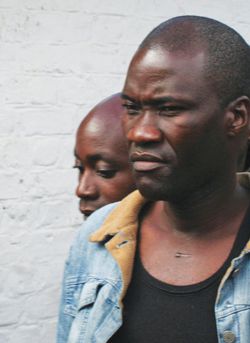 Tiwonge Chimbalanga and Steven Monjeza being led from court in Blantyre, Malawi, after a judge sentenced the couple to the maximum 14 years in prison for unnatural acts and gross indecency under Malawi's anti-gay legislation.
Photo: Alex Ntonya/AP.