Watch new interview with Madonna on Mexican sport news channel Televisa Deportes - July 20, 2012

Regardez une nouvelle interview de Madonna sur la chaîne mexicaine d'infos sportives Televisa Deportes - 20 juillet 2012.

Madonna talks about Peace and the upcoming London 2012 Olympic Games.
Lati en exclusiva con Madonna
Alberto Lati nos presenta una charla olímpica con Madonna
NTD
Lati en exclusiva con Madonna
Canal: Noticias
Duración: 00:00:52
Capítulo: 1332
Fecha: 20/07/12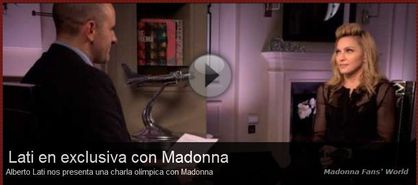 Click the pic to watch the interview.
Cliquez sur l'image pour voir l'interview.