When Madonna and Apple inspire Coca-Cola
Quand Madonna et Apple inspirent Coca-Cola


Publié le 21 septembre 2010 à 06h14 | Mis à jour le 21 septembre 2010 à 06h16
Isabelle Massé
La Presse
(Montréal) «Si ce que je conçois ne voyage pas dans 50 marchés, je considère ça comme un échec.» Jonathan Mildenhall, vice-président mondial de la stratégie publicitaire et créative de Coca-Cola, est catégorique. Le fabricant de boissons gazeuses, présent dans 206 marchés, doit produire des campagnes qui ont un impact mondial. Pour y arriver, l'entreprise pour laquelle Jonathan Mildenhall travaille depuis 2006 a plusieurs cordes à son arc.
«Quand on travaille chez Coca-Cola, notre muscle créatif se renforce», a-t-il affirmé au cours d'une conférence du 2e Rendez-vous média organisé par Infopresse. «Pour y arriver, nous étudions notamment plusieurs icônes du monde moderne. Il y a le cofondateur d'Apple, Steve Jobs, qui a transformé un gadget en trésor. Madonna qui, depuis 28 ans, projette l'image d'une femme indépendante. Et les gars de Google qui ont fait de leur création la marque qui a le plus de valeur à nos yeux. Tous ces gens nous inspirent.»
Pour mener la marque jusqu'au bout du monde, il faut faire rêver les consommateurs. Coca-Cola, 19e au tableau 2010 des entreprises les plus innovantes, selon Bloomberg, et première du classement Interbrand 2010 sur la valeur des marques, s'évertue ainsi à faire rimer la marque avec «bonheur». «Coke opens to happiness», comme Jonathan Mildenhall l'a dit et répété, une cannette de Coke à la main, devant 600 personnes, jeudi dernier. «Tout passe par une créativité brillante, estime le vice-président. Être créatif décuple l'amour pour une marque et mène vers de nouvelles possibilités. La créativité est au-devant de toutes les avancées scientifique, industrielle et marketing.»
Pour appuyer son discours, Jonathan Mildenhall a présenté une vidéo de quelques minutes sur le succès des stratégies marketing de Coca-Cola pendant la Coupe du monde de 2010 en Afrique du Sud. En vrac: la chanson Waving Flag de K'naan a été numéro un aux palmarès musicaux de 18 pays, un nombre incalculable de groupes, de l'Argentine à l'Inde, ont récupéré le refrain sur les réseaux sociaux, le programme RAIN - rendre l'eau potable accessible au plus grand nombre de jeunes Africains possible - a bénéficié d'une vitrine inespérée...
Marketing social
Coca-Cola veut faire rêver et ses dirigeants disent surtout vouloir réaliser de grands rêves. Comme plusieurs autres entreprises, pesantes et moins pesantes, elle a ouvert récemment ses bras au marketing social. L'entreprise a multiplié les gestes responsables et la promotion d'initiatives vertes. Sa marque de boisson Fanta s'est associée aux États-Unis au réaménagement de parcs où les jeunes peuvent dépenser de l'énergie. Depuis quatre ans, Coca-Cola a dépensé 4,2 milliards dans son eau Smartwater (dont le visage et le corps de la porte-parole Jennifer Aniston rayonnent dans des pubs en noir, bleu et blanc). «Depuis six ans, Coca-Cola est aussi l'entreprise qui a le plus innové en matière de recyclage, affirme Jonathan Mildenhall. Nous devons réussir à faire de la terre un monde meilleur. Toutes nos marques et nos divisions doivent y arriver. C'est très important pour nous.»
Source: La Presse Affaires.

On the cover of Canadian newspaper "La Presse Affaires" -
September 21, 2010.
En couverture du journal canadien "La Presse Affaires" -
21 septembre 2010.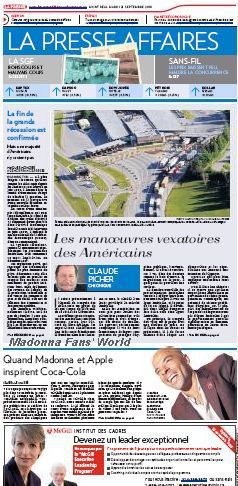 Jonathan Mildenhall, vice-président mondial de la stratégie publicitaire et créative de Coca-Cola.
(Click to enlarge. Cliquer pour agrandir.)