X Factor Katie Waissel wearing a Madonna T-shirt
X Factor Katie Waissel portant un T-shirt de Madonna.

X Factor reject Katie Waissel makes the most of the sunshine as she larks around with her boyfriend on Primrose Hill
By Daily Mail Reporter
Last updated at 3:31 PM on 23rd April 2011
With temperatures reaching 26C in London today, it's no surprise people were flocking to local parks in their thousands to make the most of the sunshine.
And among the crowds was X Factor reject Katie Waissel, who appeared to be enjoying herself as she larked around with friends including boyfriend Leon Callanan on Primrose Hill.
Teaming her huge backcombed blonde hair with a printed T-shirt, red lipstick and a pair of tight jeans, Katie looked every inch the quintessential rock chick as she reclined on the grass with her group of pals.
Source: Mail Online.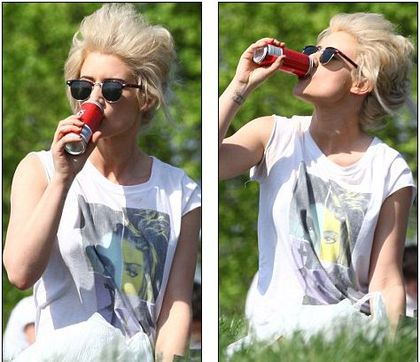 Rock chick: Katie teamed her skinny jeans with a Madonna printed T-shirt.