X Factor: Louis Walsh Claims Jedward Are As Good As Madonna
X Factor: Louis Walsh déclare que Jedward sont aussi bons que Madonna.


14:48, Tuesday, 3 November 2009
X Factor Judge Louis Walsh is backing Irish duo John and Edward to win The X Factor insisting the twins are as entertaining as Madonna and Kylie Minogue.
Speaking The Daily Mirror the boys' mentor said 'I think the twins can win it. They're not the best singers or dancers but they're brilliant entertainers - Madonna and Kylie aren't the best singers either but like the twins, they are great entertainers.'
After a record of 15.8 million people watched Rachel Adedeji leave the comp on Saturday night and this week's X Factor show dedicated to film songs, Jedward are reportedly going to perform the Ghostbusters theme tune.
Do you think the twins deserve to still be in the competition? Let us know below.
Source: MTV UK.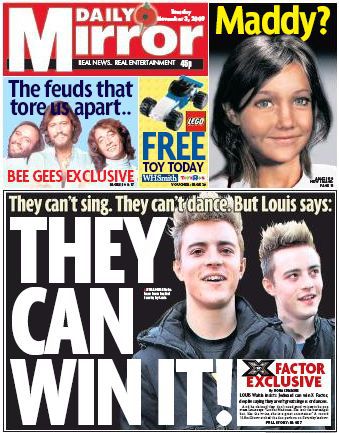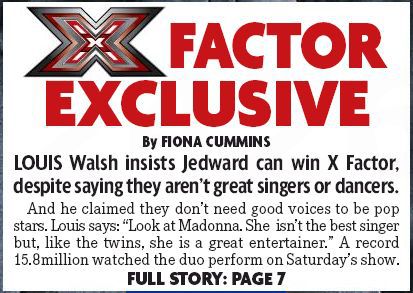 Daily Mirror - November 3, 2009