Fans await Madonna at the Kabbalah Center in Sao Paulo, Brazil on Nov. 12, 2009
Madonna is supposed to meet Michael Berg there.

Des fans attendent Madonna au Centre de la Cabbale à Sao Paulo, Brésil le 12 novembre 2009.


Madonna doit y rencontrer Michael Berg.


12/11/09 - 15h20 - Atualizado em 12/11/09 - 15h23
Fãs aguardam Madonna em frente a Centro de Cabala de São Paulo
Cantora está na cidade para encontro com o rabino Michael Berg
Do EGO, no Rio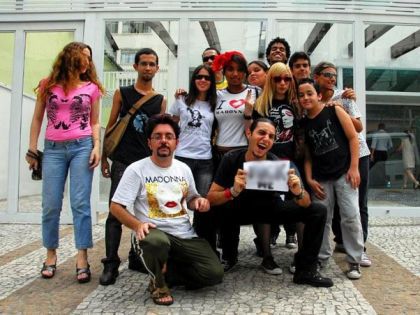 Depois de levar os fãs cariocas à loucura, foi a vez de o povo paulista ter seu momento tiete com Madonna. Alguns deles aguardam a cantora em frente ao Centro de Cabala de São Paulo, no bairro dos Jardins, na tarde desta quinta-feira, 12. Madonna deve encontrar o rabino Michael Berg no local.