Kelly Osbourne's Material Girl photoshoot was in Times Square, NY
La séance-photos de Material Girl de Kelly Osbourne était à Times Square, NY.

'I am NOT getting fat': Kelly Osbourne hits back at critics as she poses for new photo shoot
By Daily Mail Reporter
Last updated at 8:22 PM on 26th April 2011
Kelly Osbourne has insisted that contrary to reports, she is not putting on weight.
The E! presenter, who shed 3st 5lb (50lbs) after taking part in Dancing with the Stars, said that she is still working out and is happy with her body.
And she certainly looked confident as she posed for a photo shoot in Times Square today in a floral dress, leather jacket and boots.
She told Us Magazine: [The media keeps] writing that I'm getting fat, and I'm not - I'm the same size.
'I work out half an hour a day and just eat what I want and I'm happy, so I don't really care.'
The self-confessed 'emotional eater' began her transformation in 2009 under the guidance of her dance partner Louis van Amstel.
'He made me eat turkey burgers and salads,' she told Shape magazine in November. 'Then I started losing weight and realised, "Oh, it's true what they say: Diet and exercise really work!"
'I used to eat chips and cookies and drink soda all day long,' she admitted. 'I had to start making better choices.'
'I indulge with pizza and cheese - I love Brie - and have cookies sometimes. But now, when I'm full I stop eating! It may have taken me 26 years to figure it out, but I've finally learned how to do it right.'
This week Kelly added that she is actually looking forward to turning into her mother Sharon as she ages.
'[I accepted] that harsh reality where I woke up and one day realized 'I am my mother!' But...if I could be anyone, I'd be her!'
And they share one common value - a need to tell the truth. 'What's the point in lying?' she said. 'If you've got skeletons in your closet, some a**hole's gonna dig them out, so just be honest.'
Source: Mail Online.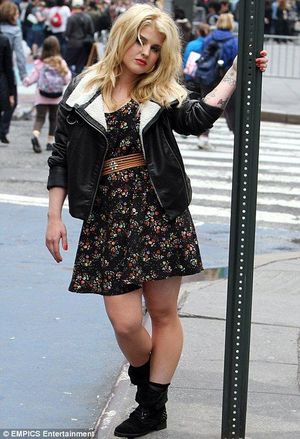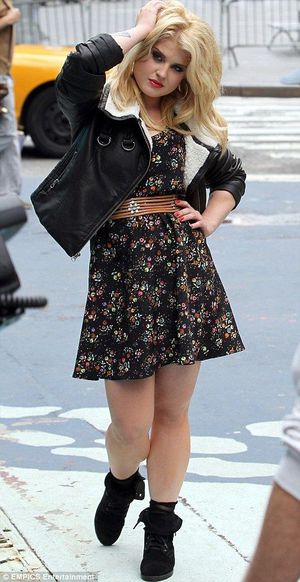 Staying on track: Kelly Osbourne, pictured here on a photo shoot in Times Square, New York, today, says she still exercises every day.