Live Aid Remade: 25 years after, the spirit of Live Aid is resurrected
Live Aid Remade: 25 ans après, l'esprit du Live Aid est ressuscité.

Live Aid Remade tour puts School of Rock on the road
14/07/2010
By Kristin McGrath, USA TODAY
Twenty-five years ago, global concert Live Aid rocked the world with performances by Queen, Madonna, U2, The Who, Duran Duran, Paul McCartney and others and raised tens of millions of dollars for famine relief in Africa.
This summer, the spirit of Live Aid is being resurrected — by musicians who hadn't yet been born in 1985. Live Aid Remade, a nationwide summer tour that kicked off last week in Portland, Ore., will see rock's youngest disciples — all teenagers in the School of Rock— paying tribute to the stars who made the original concerts legendary. The set list includes Sunday Bloody Sunday (U2), Rebel Rebel (David Bowie) and Rocket Man (Elton John).
"There's something so cool about playing these songs that were written by amazing people," says School of Rock student Alex Tremetiere, 17, of Newtown, Pa. "When you learn a song, you pick it apart, and you see maybe what they were thinking when they were writing it."
School of Rock, a year-round music education program with 58 locations nationwide, makes rock stars out of its students (ages 7-18), who learn from professional musicians teaching a curriculum of everything from the Allman Brothers to Black Sabbath. Guest professors have included Peter Frampton, Alice Cooper and Heart's Ann Wilson.
The students taking the stage for Live Aid Remade, which will have 45 stops and wrap up Aug. 19 in New York, are among the school's best, handpicked for its All Stars program. With a large pool of talent (40-50 All Stars in each of the tour's three regions), the students swap instruments and roles so that everyone shares the spotlight.
"These are the kids who are very, very passionate," says Alyson Shapero, marketing vice president for the school. "You can see it through their actions, you can hear it through their music, and you see it onstage."
Tremetiere has been on several School of Rock tours, and for this one, she'll play bass and sing on songs by Neil Young, Led Zeppelin and Santana.
"There's something so amazing about getting so into the music that you don't even know that people are watching you," she says.
The generation gap between the young performers and their material is not difficult to bridge, says vocalist/guitarist Joe Lynn Turner, best known for his work with Rainbow and Deep Purple. In June, he traded solos with students for a series of East Coast shows featuring music from his generation.
"They were diving deep into the classic rock stuff," he says. "They said, 'We like new music, but it doesn't have as much soul as the old stuff.' And I have to agree. These kids are reliving it, and it's unbelievable."
That gut connection to music is what makes the school's unorthodox approach work, says School of Rock CEO Chris Catalano.
"I loved to play piano when I was little, but I hated piano lessons," he says. "You'd go into a house that looked like The Amityville Horror, and this lady would sit next to you smelling like mothballs. She'd teach me The Blue Danube, and I knew I was supposed to be inspired, but I just wasn't."
Rocking out on stage is just part of the curriculum. Catalano hopes the tour will teach students the "value of giving back," with $10 from each ticket (prices vary by market, from free to $15) going to Haiti relief efforts via Music for Relief, a non-profit that gives aid to victims of natural disasters.
Other lessons include teamwork, poise and confidence.
"When you see these kids onstage playing together, I mean really just throwing it down, they cease to be children," Turner says. "They become little rock stars."
Source: USA TODAY.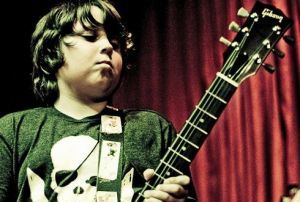 Waylon Rector from North Hollywood, Calif., is a School of Rock All Star student.
Photo: Charlie Homo.