Madonna chats about her mother-daughter fashion venture
Madonna disgute de l'aventure mère-fille dans la mode.

Jul. 26, 2010 08:41 AM
USA TODAY
Work-a-holic Madonna always has lots going on, so for the aptly-named Material Girl fashion line, which will be sold exclusively at Macy's starting Aug. 3, the singer turned to her 13-year-old daughter Lola for help with the designs, reports USA TODAY.
"Since I have a few careers going, I decided that I wasn't going to get into designing this line by myself," says the 51-year-old singer.
"No question, Lola seemed the perfect choice. She is really doing most of the work. She shows me things and I go 'that's cool' or 'that's not cool.' We both go to business meetings. We exchange ideas, talk things out and even disagree about some things, though rarely." Madonna also notes that her daughter has a "unique" fashion sense and is "much more adventurous than I am."
And while Madonna knows how to strike a pose, she got behind the lens to ensure model/actress Taylor Momsen looked just right.
More from the Material Girl herself:
- On Macy's: "Macy's seems like a perfect fit because they're so good at marketing, their stores are all over the place and their price range is accessible. And the Macy's Thanksgiving Day Parade passes right in front of my apartment every year so I feel especially sentimental since my kids and I get to watch it every year when we're in town."
- On Lola's fashion sense: "She's influenced by everything from bands she listens to, kids she sees in hip-hop and ballet classes and she's been to enough photo sessions, video shoots and seen me put my tours together to have developed a great eye. She's also worked in the wardrobe department on some of my tours. I love the way she puts different things together that are sometimes unexpected. She's the fashion police at our house and has a point of view on what everyone is wearing. I'm not saying we agree on everything but we enjoy collaborating together."
- On the new line: "I didn't approach the Material Girl line to make up for something missing from the retail landscape. But I do think the Material Girl line gives young girls an opportunity to express themselves creatively and have fun putting outfits together depending on the occasion or their mood."
Source: AZ Central.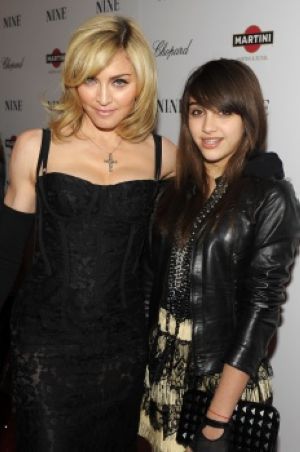 Singer Madonna (L) and daughter Lourdes Leon attend the New York premiere of 'NINE' at the Ziegfeld Theatre on December 15, 2009 in New York City.
Photo: Stephen Lovekin/Getty Images for The Weinstein Company.