Madonna leaving Malawian orphanage waving a bottle of hand hygiene gel
Madonna quittant l'orphelinat du Malawi en faisant signe de la main avec une bouteille de gel antibactérien pour les mains.

Madonna makes a clean getaway waving her hand gel as she leaves Malawian orphanage
By Richard Simpson and Marcus Barnes
Last updated at 7:19 AM on 28th October 2009

Madonna makes a clean getaway from Malawian orphanage.
She was snapped waving a bottle of hand hygiene gel out of her car window.

Could the Queen Of Pop have got her her hands dirty while cleaning her mud covered heels from the previous day?
Or maybe she's developed an unhealthy obsession with hygiene?
Whatever the reason, Madonna was snapped waving hand sanitiser out of her car window as she left the Malawian orphanage where her son David was adopted from.
The unusual gesture came at the end of her visit to the Home Of Hope Orphanage, where she was accompanied by adopted children David Banda and Mercy and daughter Lourdes.
Madonna is in the country to launch the construction of her school for girls.
The 51-year-old pop star seemed to channel movie stars from films based in the colonial era during her trip to the construction site on the previous day.
Evoking Meryl Streep in Out of Africa with her flowing clothes and straw hat in hand, the pop star smiled as she opened the proceedings yesterday.
Madonna wore a silver and black patterned shawl wrapped over a conservative, knee-length black dress.
But as the singer laid the foundation stone of the school she decided she needed no more practical footwear than a pair of strappy black heels.
The singer has previously been criticised by conservative Malawian groups for her outrageous fashion sense.
Madonna is funding the £9million Raising Malawi Academy, in Chinkhota village, about 15 kilometres outside the Malawian capital Lilongwe.
It is expected to be completed in two years and will admit 500 girls from the small southern African country's 28 districts.
Holding a colourful bouquet of flowers, she smiled curtly to waiting photographers.
The star laughed as she cut a ribbon at the ground-breaking ceremony and was even snapped shovelling earth and planting a tree - despite wearing the high heels.
She said: 'Growing up in a privileged life, I took education for granted, but coming to Malawi has taught me a lot of things and I have learnt to appreciate what life gives.'
She concluded: 'People always ask me, "Why did you choose Malawi?" But I have always said: "Malawi chose me".'
Madonna was accompanied by her four children - daughters Lourdes and Mercy, and sons Rocco and David.
The pop star adopted Mercy from Malawi earlier this year and adopted David from the country in 2008.
Madonna's Raising Malawi, a charity founded in 2006, helps feed, educate and provide medical care for some of Malawi's orphans.
Malawi, a nation of 12 million, is one of the poorest countries in the world.
About 500,000 children there have lost a parent to AIDS.
Madonna will also meet with President Bingu wa Mutharika and visit some of the orphanages her charity supports.
The school she is building for poor girls is on the outskirts of the capital and is similar to the one built by talk show host Oprah Winfrey in South Africa.
Source: Mail Online.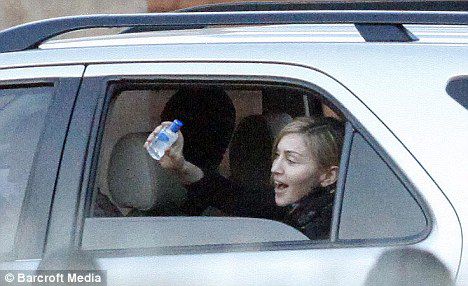 Madonna waves her hand gel as she leaves the Home Of Hope Orphanage where she previously adopted David Banda.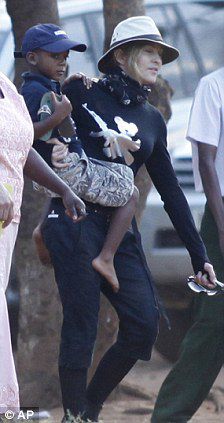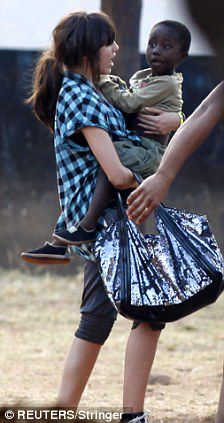 Madonna is seen carrying her adopted son David Banda while her daughter Lourdes holds one of the many children who live at the Malawian orphanage.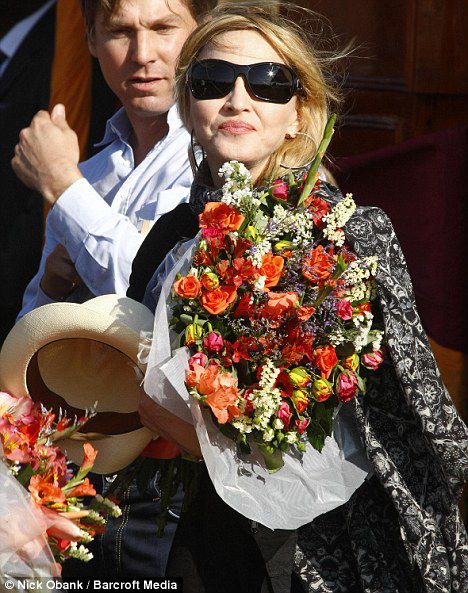 Holding a straw hat and bouquet of flowers, Madonna smiles as she arrives for the launch of the construction of her school in Malawi.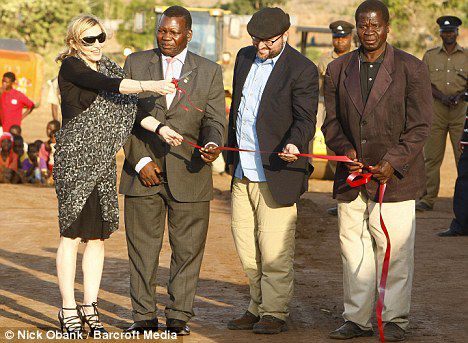 Despite the mud, Madonna still chose to wear delicate black heels as she cut the ribbon marking the beginning of construction.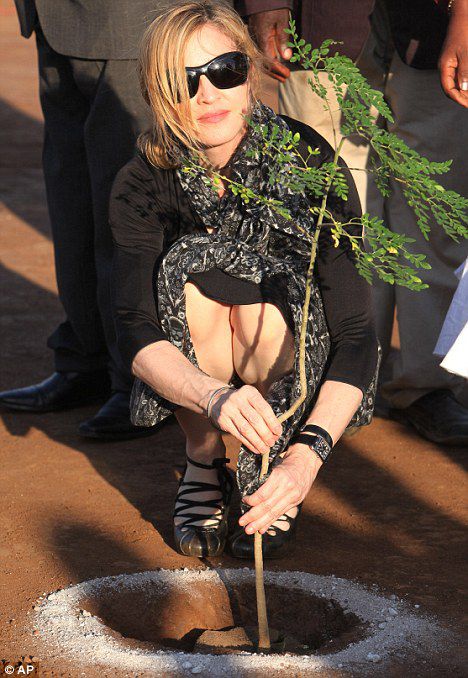 The pop star plants a tree at a ground breaking ceremony for her Raising Malawi Academy for Girls in Malawi.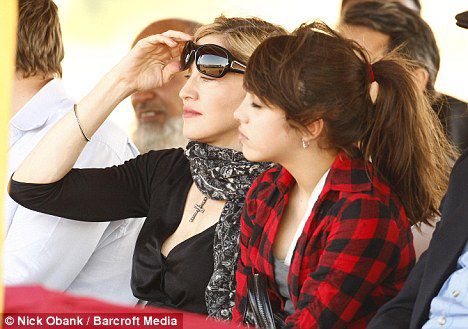 Madonna pictured with daughter Lourdes in Malawi.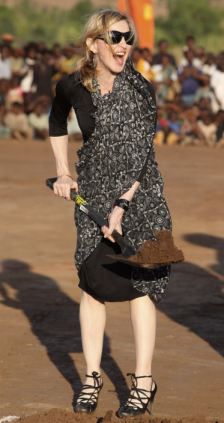 Retro: Madonna wore a shawl for the laying of the stone, reminiscent of Meryl Streep's wardrobe in her 1985 film, Out Of Africa.