Madonna's 'Material Girl' Collection on the cover of U.S. newspaper
La Collection 'Material Girl' de Madonna en couverture d'un journal américain.


On the cover of U.S. newspaper "South Florida Sun-Sentinel" - June 23, 2010

En couverture du journal des États-Unis "South Florida Sun-Sentinel" - 23 juin 2010.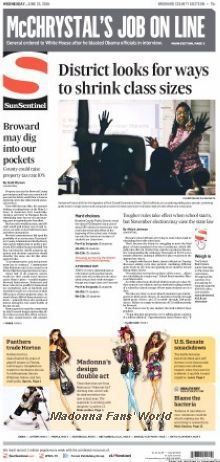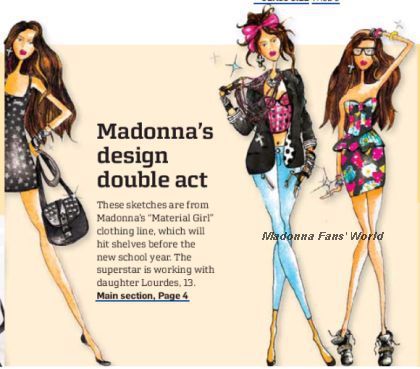 Madonna sketches for Material Girl clothing line at Macy's
by: Rod Hagwood June 23rd, 2010 | 2:00 AM
Madonna sketchy?
You bet.
Today Macy's released three sketches of Madonna's "Material Girl" clothing line which will hit store shelves and the retail chain's web site Macys.com on August 3rd…just in time for back-to-school.
Which is perfect since the pop superstar says most of the new juniors label's direction is channeled through her 13-year-old daughter Lourdes, who is borrowing heavily from the world of dance for her inaugural season.
Madonna and Lourdes (nicknamed "Lola" by family and friends) have formed a company called MG ICON, which will produce the collection of apparel, footwear, handbags, jewelry and – wait for it – fingerless gloves.
The collection will retail from $12 to $40.
Look for an ad campaign to launch on June 29. Word has it there is a celebrity muse, but we don't know who it is…yet.
There will also soon be launches of a Macys.com/materialgirl site as well as "Material Girl" Facebook and Twitter pages with more imagery and behind-the-scenes video.
Madonna, 51, says that it was fashion designer and good friend Stella McCartney who encouraged the burgeoning design talent of Lola when she was 8 years old.
But it is the Material Mom is a fashion icon. Madonna is currently in Dolce & Gabbana spring/summer ads. Previously she has modeled in ad campaigns for Louis Vuitton, Versace and the Gap.
In 2007 she created a limited-edition capsule collection with H&M stores called M by Madonna.
Madonna would join a long line of celebrities entering the fashion biz in a big way (as opposed to throwing your name on a line of T-shirts and hoodies):
1. Sarah Jessica Parker is "chief creative officer" for the still-influential designer brand Halston.
2. Lindsay Lohan was jeered for her "artistic adviser" role at the house of Ungaro, for both derivative looks on the runway and for having Miami-based wunderkind Esteban Cortazar to be unceremoniously dumped to make way for the tabloid tart.
3. Beyonce Knowles has added a Sasha Fierce label to her already successful House of Dereon brand. Her fragrance Heat is doing well.
4. Jay Z has expanded his Rocawear line to include made-to-measure customized looks. He has also been quietly buying up other labels and folding them into his fashion empire.
5. Gwen Stefani and the Olsen twins have also had major retail success with their fashion brands.
But it hasn't gone as well for the likes of Jennifer Lopez, Eve, Paris and Nicky Hilton. Jessica Simpson has had mixed results; her clothing – not so much – but the shoes are doing very well in stores and online.
Madonna's next film project is said to be a bio-pic about the romance between Wallis Simpson and Edward, the Prince of Wales. The couple (after his abdication in 1936) became the Duke and Duchess of Windsor.
Source: Sun-Sentinel.