Madonna serves as relationship expert on 'Marriage Ref'
Madonna sert d'expert relationnel dans le 'Marriage Ref'.


Madonna, the twice-divorced pop star whose romantic entanglements are often in the news, served as a relationship guru in an appearance on the reality TV programme "The Marriage Ref".
Published: 10:27PM GMT 12 Mar 2010
The "Material Girl" singer told one woman not to withhold sex from her sloppy husband. She told another woman to dispose of her late husband's prosthetic leg in order to spare the feelings of her current spouse.
Madonna joined Larry David and Ricky Gervais, the actor-comedians, as a guest panelist on NBC's "The Marriage Ref" on Thursday.
The show invites its panel of "experts" to help analyse real-life disputes between married couples, mostly for laughs. Tom Papa, the host and official "Marriage Ref", makes the final call.
In one case, Mindy Goldman was offering sexual favours to Alan, her husband of 28 years, if he would clean up their messy basement.
"I think it's weird that she wants him to be clean so that they can be dirty," cracked Madonna.
Gervais wondered, "Could they combine the sex with the housework?"
Then Susan and David Harper, married for three years, were seen in their house squabbling over possessions left over from their past relationships. Susan wanted her husband to get rid of the sofa where David and his ex-wife might have had intimate moments, while David complained about Susan hanging on to the ashes and prosthetic leg of Don, her late husband.
Madonna's swift solution: "He gets rid of the couch, she gets rid of the leg."
"This is easily the most uncomfortable hour I've ever spent in my life," sighed Larry David in the midst of the debate.
"Why?" Madonna retorted. "Because you're sitting next to a woman who's standing up to you?"
"The Marriage Ref," which premiered last week, has Jerry Seinfeld as a creator and producer.
Source: Daily Telegraph.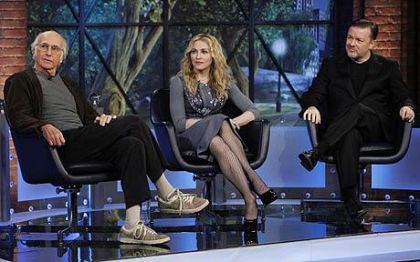 Larry David, Madonna, Ricky Gervais on The Marriage Ref.
Photo: REX.