She's no Madonna ! Lindsay plans to drop 'Lohan' from her name
Elle n'est pas Madonna ! Lindsay projette de laisser tomber 'Lohan' de son nom.

Move over, Madonna and make way for Lindsay. Starlet Lindsay Lohan has decided to forgo her surname, her mother said.
New York Daily News - Mar 25 11:07am.
Lindsay Lohan plans to drop last name to be identified only by her single moniker, says mom Dina
BY Shari Weiss
DAILY NEWS STAFF WRITER
Originally Published:Friday, March 25th 2011, 10:02 AM
Updated: Friday, March 25th 2011, 1:16 PM
Move over, Madonna, and make way for Lindsay.
Lindsay Lohan has decided to forgo her surname, the starlet's mother, Dina, told PopEater.com.
"Lindsay is dropping the Lohan and just going by Lindsay," Dina Lohan said, adding that "me and [Lindsay's sister] Ali will be officially changing our last names back to my maiden name, Sullivan."
The troubled actress' mom made no mention of whether her other two children, sons Michael and Cody, will also be changing their names.
According to PopEater, Lindsay, 24, had debated changing her name in the past but didn't begin to seriously consider it until the 2010 E-Trade commercial that included the phrase "that milkaholic Lindsay."
Lindsay filed a lawsuit over the ad, claiming the baby character was based on her. The spot had made her realize, apparently, that her first name alone was enough for people to specifically identify her. An undisclosed settlement was reached in September.
"So many of the greatest people in showbiz are known by just their first name. Look at Oprah and Beyonce. Now you can add Lindsay to that list," a source close to the Lohans told PopEater.
"And it's a way for them all to start over," the source added. "No one in the family wants anything to do with Lindsay's father anymore and that includes sharing a last name."
Lindsay's father and Dina's ex-husband, Michael Lohan, was arrested earlier this week after an alleged physical dispute with his ex-fiancee, Kate Major. He was charged with misdemeanor domestic violence and will be arraigned May 23.
Michael Lohan has not yet commented on his daughter's decision to shed his name.
But Lindsay's "attempt to rebuild her image by dropping 'Lohan' from her name will have no impact on how she's treated in Hollywood and in the media," according to branding expert, Dan Schawbel.
"Celebrities are still going to ban her from their parties," he explained to Celebuzz, "and the media will still capture her worst moments."
Lindsay's "personal brand is still associated with drugs, partying, and jail and she won't be able to shake it because the public has seen no improvement in her behavior in years," Schawbel said. "Although, she may drop her name, the public will not."
Source: NY Daily News.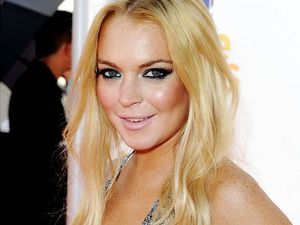 Lindsay Lohan apparently realized that her first name alone was enough for people to identify her.
Photo: Winter/Getty.