Madonna, Brahim and the kids head home after Swiss holiday
Madonna, Brahim et les enfants de retour à la maison après des vacances en Suisse.
Madonna and the kids (including toyboy Brahim Zaibat) head home after Swiss skiing holiday
By Rachael Wheeler 6/01/2012
Christmas might feel like a lifetime ago to people like us, but Madonna and toyboy Brahim Zaibat were only just heading off from festive trip to Switzerland yesterday.
The couple – who have a 29 year age difference – were snapped leaving Geneva International airport last night, with the whole family in tow.
Madonna, 53, treated Brahim, 24, and kids Lourdes, Rocco, Mercy James and David Banda to a snowboarding trip in a Swiss skiing resort over New Year.
They have been spotted carving up the slopes in luxury resort Gstaad over the last week or so, but the family had to be back in London today so that Madonna can start promoting new film W.E.
Madonna and the kids (Brahim is included in this) didn't look too happy as they trudged through the airport in their winter gear, with Madonna wearing what can only be described as a 'very silly hat'.
Part of us started feeling a bit sorry for the kids when we saw this picture, with Christmas being over and school starting and all, but then we remembered that they're heading back to a multi-million pound mansion that is better than anywhere we've ever stayed and we stopped feeling sympathetic immediately.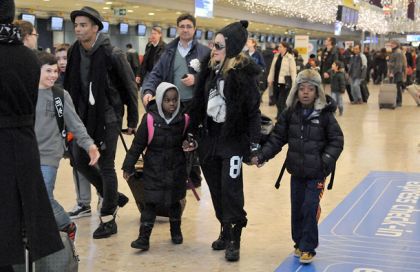 Madonna & Family: Passing Through Geneva International Airport
Jan 5, 2012 by LISA ESTALL
Madonna and her family made it back to Geneva International Airport in Switzerland on Wednesday (January 4). They had spent their New Year break skiing on the slopes at Gstaad.
Seen walking through the terminal were her children, David, 6, Mercy, 5, and Rocco, 11. Her boyfriend Brahim Zaibat was also in tow. Lourdes, 15, wasn't around even though she was on the trip with them. Bundled up in winter gear, they didn't seem to be bothered by other passengers.
Madonna has talked about getting her kids' approval when she's with a man.
She said, "It's important that my children admire and respect this partner that I would choose for myself. Especially for my sons, who have their father but they need a male role model as well. So I need to keep this in mind: What is this person modeling to my sons, what kind of man is he, what values does he have, what energy is he giving off? Because they are impressionable. It's so important."
The 53-year-old pop star still has it! Her new album is being released in March.

View more pictures at Celebrity Baby Scoop.