Venus D Lite: ''I've just wanted to be Madonna since I was 15''
Venus D Lite: "Je voulais juste être Madonna depuis que j'ai 15 ans".

Madonnarama
Female impersonator Venus D Lite is crazy for Madonna
By Doug Rule
Published on June 6, 2011, 6:34am
Here's an interesting fact: Adam Guerra has devoted so much of his life to drag and impersonating women, he only just bought his first bottle of men's cologne.
"Believe it or not, I've never done that in my whole life," says the 27-year-old, whose nom de drag is Venus D Lite. "A lot of my boy life the last 10 years was compromised."
But Guerra isn't just any drag queen. The Los Angeles native is arguably the nation's leading Madonna impersonator, this year gaining a little more recognition as a short-lived contestant on RuPaul's Drag Race. He's certainly the most dedicated Madonna impersonator. In 2007, Guerra had a few "simple" facial surgeries, "just little things here and there" -- a nip/tick, cheek implants -- all in order to "just look more like [Madonna], and have more of her face shape."
"I've never had feelings to want to be a girl," Guerra laughs. "I've just wanted to be Madonna since I was 15." That's the age -- in 1999 -- when he discovered Madonna's self-titled debut album in his mother's collection. (Of course, Guerra wasn't born until a year after Madonna was released in 1983.) "I was so inspired," says the gay entertainer. "It took me to like this fantasy world."
Guerra created his drag name -- inspired by Bananarama's 1986 hit cover -- before his concentrated focus on Madonna. Back then, pre-op, he was impersonating Paris Hilton, Gwen Stefani, Cher and Barbra Streisand.
A full-time pursuit for the past six years, Guerra knows of no other drag queen as "crazy" for Madonna as he. And other divas just don't inspire him as much. "I've considered [Lady] Gaga," he says, adding with a laugh, "I just think she's already [kind of] a drag queen, so it'd be kind of easy."
He's currently promoting his debut single, a tongue-in-cheek nod to his career "I'm Not Madonna." He hopes to make more original tracks on which he actually sings -- as opposed to lip-synching to prerecorded hits. He'd also love to work with Madonna, on video or on stage. He'd find that more satisfying than merely meeting her.
In addition to a lucrative career, drag has also been a boon to his relationship with his mother. "When I first came out to her, it was really hard," he says. "But for some reason [drag] broke the ice with her and the gay thing. Maybe it's because she always wanted a daughter."
Venus D Lite performs Sunday, June 12, on the Capital Pride Festival Mainstage.
Source: Metro Weekly magazine, Washington, DC newspaper.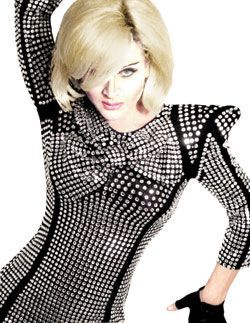 Venus D Lite